---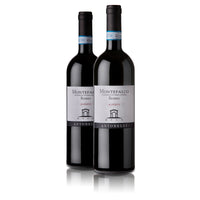 Montefalco Rosso Riserva doc - older vintages
Regular price €21,50
Tax included.
A selection of our Sangiovese with the most important ageing potential is proposed here in the older vintages of Montefalco Rosso Riserva doc.
The following vintages are available:
2011
Characterised by a spring and early summer with limited rainfall and fluctuations of cold and hot temperatures and a rather slow and irregular veraison. From the end of August and throughout September, the climate was hot and dry with strong temperature variations. Slightly early harvest.
Alcohol
14.5%
Size
750 ml
2008
Characterised by a particularly cool and rainy spring, which caused a delay of about 10 days of the phenological phases. Dry summer with temperatures in the norm for the period. Late September and early October with northerly winds and therefore cool temperatures, low humidity and perfectly healthy grapes.
Alcohol
14%
Size
750 ml
2007
Characterised by high temperatures and low grape production in the vineyard. Early harvest.
Alcohol
14.5%
Size
750 ml
2006
Characterised by cool temperatures and delayed phenological phases. Cold and dry winter. Mild spring with little rain. Late budding. July and August were with below average temperatures and high rainfall. Dry and warm September and early October. Late harvest.
Alcohol
14.5%
Size
750 ml
2001
Characterised by a frost in April which reduced grape production and an overall balanced climate trend. The rather rainy winter and some providential rain in July allowed the vineyards to overcome the very hot and dry months of July and August in the best possible way. September and October with optimal weather for the ripening of the grapes. Slightly early harvest.
Alcohol
13.5%
Size
750 ml
2000
Characterised by high summer temperatures. The spring and early summer were hot and dry, hot August and hot September but with strong temperature variations and some rain. Early harvest.
Alcohol
13.5%
Size
750 ml
CONTIENE SOLFITI - CONTAINS SULFITES - ENTHÄLT SULFITE - BEVAT SULFIETEN – CONTIENT SULFITES – OBSAHUJE SIŘIČITANY – INNEHÅLLER SULFITER - SATUR SULFITI – ZAWIERA SIARCZYNY